Champion Callimont's Limited Edition !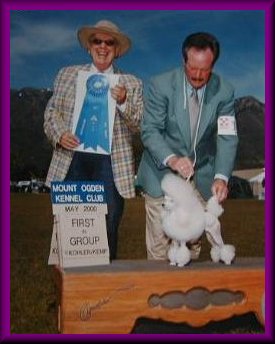 Lalique & Tuffy's Daughter, Champion Callimont's Limited Edition (Claire), was the Number Two AKC Toy Poodle in the United States in 2002!!!
Dogs Prepping for big U.P. Show
By A. M. KELLEY
Journal Staff Writer
MARQUETTE ; Jeff Nokes did Claire's hair Wednesday afternoon, but withheld the hot oil treatment. He left that for Thursday so she'd have pouf and panache for the weekend.
Claire is a Pennsylvania-bred 3-year-old toy poodle that lives in Oregon and travels to dog shows all over the country with Nokes, her owner and handler.
Let me put a little makeup on her, Nokes said, before he'd allow photos to be taken.
Claire's petite, pretty, and a champion. In fact, she's the No. 2 toy poodle in the United States and she came to town to compete in the Marquette Kennel Club dog show at Lakeview Arena this weekend.
Her official name, Champion Callimont Limited Edition, weighs about as much as she does herself at 5 pounds, a half a pound up from last year.
Getting a little matronly, Nokes ribbed her gently.
She's in training like an athlete and requires his daily attention. He has to be sure Claire gets the right food and exercise to maintain the proper weight and good muscle tone. And with Claire's busy schedule, Nokes has to be sure she has sufficient down-time and play activities.
They flew in Tuesday from Damascus, a suburb of Portland, Ore.
She's a better traveler than I am, Nokes said. She sleeps and I don't.
The pair enjoy coming to the Upper Peninsula dog show. Nokes considers it a nice vacation in a quiet little community. Claire likes it because she can jump on the couch in the house of their host, Jean Jackson, a Marquette resident and kennel club member.
Nokes, 52, is a professional dog handler. Claire belongs to him but usually he enters competitions with dogs belonging to other people. It's a full-time business for him and he earns from $60,000-$80,000 a year.
His clients are people from all backgrounds. They're doctors, lawyers, teachers and some own a trucking company. Besides what he described as the exhausting work of caring and showing dogs, Nokes owns eight toy breeds himself.
I cook a lot for them, stews and soups - like a mother, he said.
He grew up in Anaheim, Calif., and has been interested in dogs since he got his first pet, a toy poodle, in the fourth grade. It was easy to get involved in dog competitions in the southern California area.
The dog show community is huge there, he said. And dog shows are a huge business nationwide.
Nokes bought Claire when she was only 3 months old. He said he knew right away she had star quality.
It was her attitude, he said. She owned the world from the beginning. She thought everybody should love her because she was so pretty.
Show poodles must be playful and responsive, he said. They have to be able to roll with the punches during competitions and still be in a good mood at the end of a work day. And they need to have a certain look in their eyes.
In the girls, it's a -minx-ness- and in the boys it's that stallion thing, he said.
When Claire turns 4 next year, Nokes will retire her from the show circuit to breed her and make her a house pet. Early retirement is usual for a champion.
Like a good matchmaker Nokes is checking the field out, looking for the right bloodline. He can trace Claire's ancestry back to the 1940s.
In human terms this is probably back to the Mayflower, he said.
He thinks he's found her a mate, a Japanese import, and said she'll be a good mother.
She loves everything, he said.
This week Claire didn't seem to have blue ribbons, puppies or Oriental studs on her mind. After all, she had her favorite squeaky toy and a nice sunny backyard to run around in.
Friday, August 30th, 2002
Marquette, Michigan - THE UPPER PENINSULA'S LARGEST DAILY NEWSPAPER
Jeff Nokes of Damascus, Ore., grooms his champion toy poodle Claire for the 27th annual Marquette Kennel Club Dog Show and Obedience Trials. They flew in this week for the show which runs Friday through Sunday at Lakeview Arena. (Journal photo by A. M. Kelley)